Just the B-Side: New Words from Meg / New Music from Benny The Butcher
Issue # 008 (the B-Side): plus, (From the Archives) 112 playing Pictionary in VIBE June 2005 issue
A-Side
I'm not gonna hold y'all for too long this week. So let's get into it.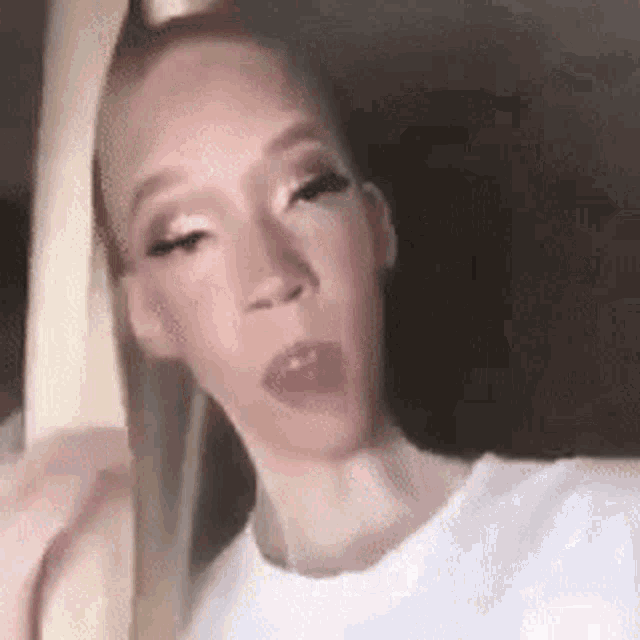 ---
B-Side
What's the 411?
Nicki confirmed the birth of her son on Instagram, sharing, "I am so grateful & in love with my son. Madly in love. My favorite kiddo boy in the whole wide world." She assisted Sada Baby on the "Whole Lotta Choppas" remix, rapping, "To be honest, I hope one day we do a playdate with Adonis." 🥺

Lil Wayne named Missy Elliott as his favorite rapper and inspiration behind "Block Burner" and "Tha Block is Hot" on DJ Khaled's podcast "The First One." Missy is the reason "why [he] was making so many sounds." Missy admitted that she "used 2 get clowned 4 making sound effects," but she's "happy [Wayne] & Manny saw the genius in it."

Bbymutha put her latest (and final) album Muthaland on Spotify after releasing it exclusively on Bandcamp in August. Say it with me: "thank you, bbymutha!"

New Rico Nasty is on the way, featuring Gucci Mane and Houston's Don Toliver (confirmed by Rico).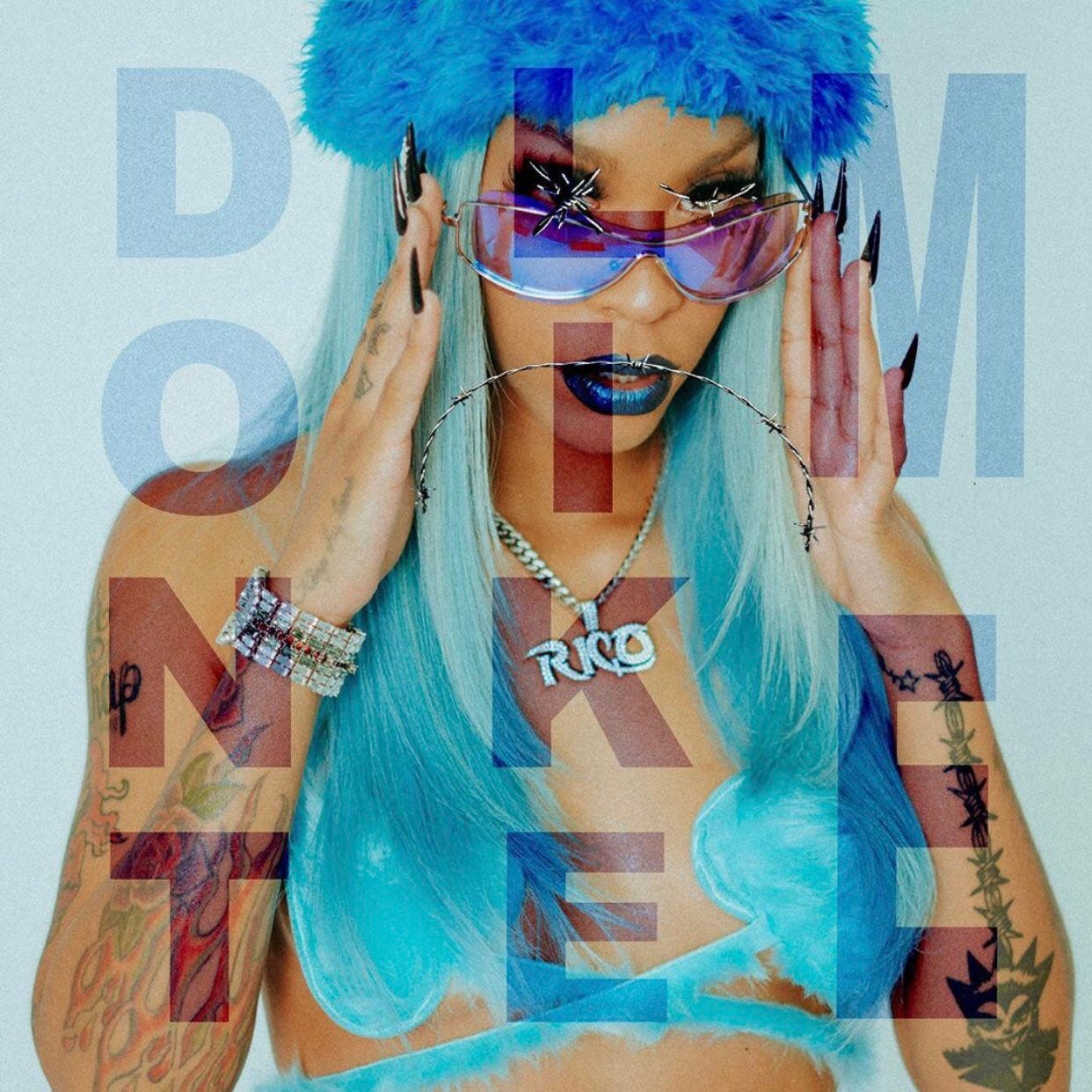 ---
That New-New
Benny The Butcher, Burden of Proof (album)
PARTYNEXTDOOR, PARTYPACK (album) for all his Day 1's
Sada Baby feat. Nicki Minaj, "Whole Lotta Choppas" remix (single)
Yung Bleu feat. Drake, "You're Mines Still" remix (single)
Ty Dolla $ign feat. Jhené Aiko & Mustard, "By Yourself" (single)
New to You Challenge:
Listen to a song or album that you haven't heard before. It doesn't matter if it came out today (new) or 20 years ago (new to you). I'm gonna listen to Armani Caesar's The Liz and Pretty Girls Get Played Too. Reply to this email or let me know on Twitter what you're listening to.
---
Pass the Mic
🎤 "I'm not afraid of criticism. We live in a country where we have the freedom to criticize elected officials. And it's ridiculous that some people think the simple phrase "Protect Black women" is controversial. We deserve to be protected as human beings. And we are entitled to our anger about a laundry list of mistreatment and neglect that we suffer." — Megan Thee stallion, Megan Thee Stallion: Why I Speak Up For Black Women
🎤 "But phrases like "believe women" or "protect Black women" or "Black lives matter" are empty without the commitment to an overhaul of harmful ideologies, behaviors, and systems. Megan is still being ridiculed, Tory is still being defended, and the scores of men in music who've abused women are still making strides...If a famous, wealthy, beloved Black musician can be violated without recourse or punishment, what does this mean for everyday Black women?" — Ivie Ani, Protect Megan Thee Stallion From Tory Lanez
---
From the Archives
For your viewing/reading pleasure: 112 plays VIBE Magazine's version of Pictionary in the June 2005 issue (cover photo of Faith Evans is in Issue # 007).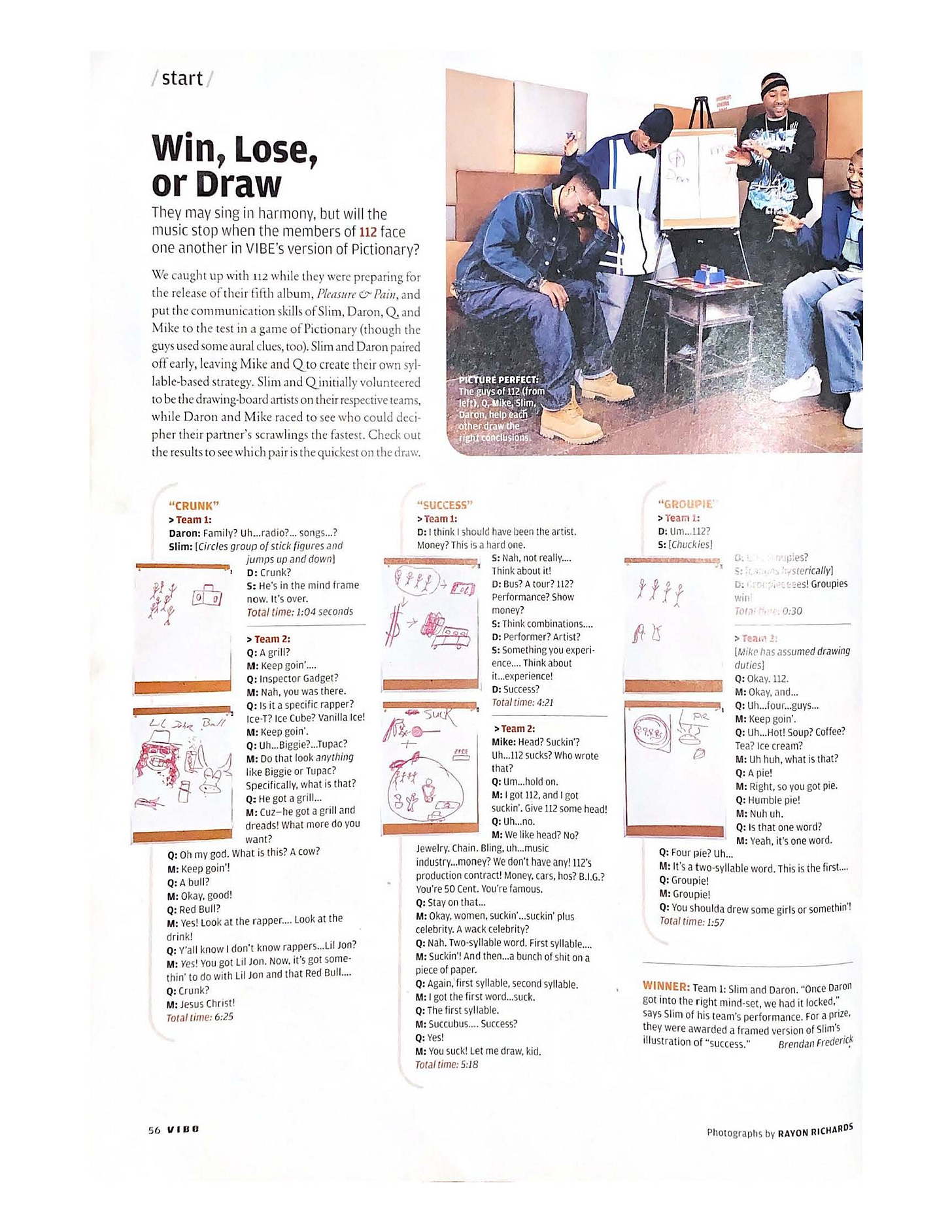 ---
The Credits
This video of Gunna has been living rent-free in my head. (See you next week.)
"Issa panoramic😌. We need our 💰money. We need it now❗️📍😁🚬💨. I don't got that kinda ⏳time⌛️ because its a panoramic❗️"