God Bless Hip-Hop and These 'United Skates'
Issue # 005 (the A/B-Side): hip-hop's connection to roller skating
A-Side
Growing up in Newark, NJ, going to Branch Brook Roller Skating Center was engrained in our culture. From birthday parties and school field trips to finally being old enough to go with a group of friends, Branch Brook was the place to be. I couldn't skate well, so whenever I grew tired of holding a friend's hand, I loved standing on the sides, listening to the hip-hop, R&B, and house music the DJ played and watching others skate.
The HBO documentary United Skates (2019) explores the history of roller skating culture in African American communities, specifically how rinks were sites of segregation resulting in the implementation of "Adult Night" and how they nurtured hip-hop and the genre's artists in its early years.
In an interview with Vice, first-time documentary directors Tina Brown and Dyana Winkler explain why they wanted to understand the link between skating and hip-hop.
[Winkler] Skaters would tell us all the time, we saw so and so at the rink, this person grew up with us, Dre was a DJ at the rink when he was young. We were trying to show the importance of roller rinks as community spaces that helped give rise to these hip-hop artists, that were centerpieces for early civil rights battles—one of the first sit-ins in the country was a skate-in at a roller rink.
The film features hip-hop legends Coolio, Salt-N-Pepa, Naughty by Nature's Vin Rock, and World Class Wreckin' Cru. "In the '80s, when artists like Salt-N-Pepa, Naughty by Nature, N.W.A. and their fans were eyed with suspicion by many established concert halls, robbing them of normal bookings, rinks happily accepted them. Dr. Dre got his start as a D.J. spinning at Skate Town in Los Angeles," Jim Farber writes for the NYT.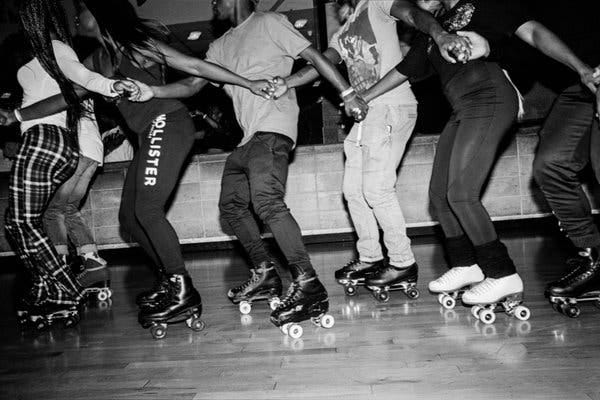 📸Andre D. Wagner for The New York Times
[Brown] We also took time finding footage and photos of artists in their early days performing in rinks. We were lucky to find this Queen Latifah footage for the film. She was 19 or 20 performing in a rink in LA. That took about a year of negotiating to get. It had only been shown once.
The film functions as a call to action. Roller rinks around the country have been targeted by zoning laws & gentrification, and their owners suffer immense financial pressure to remain open. Rinks are disappearing right in front of our eyes, and the pandemic is sure to have an unfavorable effect on the few remaining centers. United Skates serves as a moving image preservation of a subculture.
Like rollerskating, hip-hop operates at the intersection of art, expression, community, and style. Neither rollerskating nor hip-hop is a monolith, as regions develop and perfect different styles (Newark/NY's skating style is defined by trains). Initially sidelined and shadowed by mainstream (white) culture's resistance, both cultural forms persevered, and today, they deserve not only recognition, but preservation. Recognition is not enough because, without intentional preservation, historical erasure awaits. God bless hip-hop and these 'United Skates.'
---
B-Side
What's the 411?
Mary J. Blige is set to make her Republic Records debut later this year with her 14th studio album. "It's about life, love, struggle, but mostly triumph," Blige revealed to The L.A. Times.

Ronald Bell, co-founder of the 1970s group Kool & the Gang, passed away on September 9, 2020. RIP.

Man. This hurts. I mean everything hurts but to lose Khalis Bayyan (fka Ronald Bell—brother of Robert Kool) his brother Kool May have been the band's anchor & muscle but I consider KB to be the heart of this powerhouse unit. The stories he told me—-were so mind blowing. They were the original music metamorphosis mob: to come in the game as jazz snobs, & accidentally conduct the train of funk (making fun of "Soul Makossa" paid off in "Jungle Boogie") then to bring new life to disco w those complex jazz arrangements in "Open Sesame"—-& the risk it all like a mofo & go pop the right way (the "Celebration" story is one for the record books) by bringing James "JT" Taylor to the front was always what the doctor ordered (they caught some flack.....but I understood & it worked) only to go full circle & have hip hop embrace it from the gate and REINTRODUCE the first two stages under a new filter to a new generation. If you love the sound of (1988-2000) era hip hop was your bag then you too will be effected by this loss. Condolences to the entire

@koolandthegang

family & loved ones. Rest in Beats brother.
Spillage Village, the ATL super-collective comprised of Earthgang, J.I.D, Hollywood JB, Jurdan Bryant, Mereba, 6LACK, and Benji, will release their album Spilligion on September 25th, 2020.

Chattanooga, Tennessee rapper bbymutha announced her retirement while releasing "Muthaland," her debut and final studio album. Listen to "Muthaland" here.

---

That New New

Saint Bodhi has collaborated with Beyoncé, A$AP Rocky, Erykah Badu, Kevin Gates, Tinashe, and more, but over the past year, she's proven she can hold her own on the mic.

It's the "We Gonna Make It" sample for me...

"Baptize" is the second single released ahead of the group's first album in four years.

I'm not saying someone at TDE read Issue # 003…but maybe they did.

Anthony Ramos, best known for his role in Hamilton, assists Ari Lennox in this soulful song.

Trippie samples Busta Rhymes and Mariah Carey's 2002 classic, "I Know What You Want."

On Cordae's first release since leaving the YBN collective, he splits the chorus and a verse with Roddy. The two rappers were selected for XXL's 2019 Freshman Class.

"Getting to the paper like it's human nature"
---
Pass the Mic
"MISSISSIPPI PRIDE is Lil' Murda's love letter to The Sip. We wanted to show how hip-hop is built on constant nods to the ancestors as DJ Neva Scared samples Baby D's neighborhood anthem Eastside vs. Westside and flips it into a new MS homestate anthem." - Katori Hall, creator of the Starz series P-Valley
---
From the Archives
I bought a new record player this week and one of the first records I listened to was Luther Vandross' 1985 album The Night I Fell In Love. The third song on the A-side, "If Only For One Night," began and I couldn't help but think of Bow-Wow playing an imaginary piano with his fingers during his concert performance of "Let Me Hold You" 🤣 (0:00-0:05). The 2005 song samples Vandross' 1985 cover of Brenda Russell's "If Only for One Night."
---
The Credits
Shoutout to you if you made it this far! This newsletter is free, so the best way to support is to let me know what you think and to share A-Side/B-Side with a friend. See you next week.